The Cure for a Messy Office
What is the single biggest reason that an office is messy?  It's paper, paper, paper. There are documents everywhere.  The cure is implementing a document shredding program.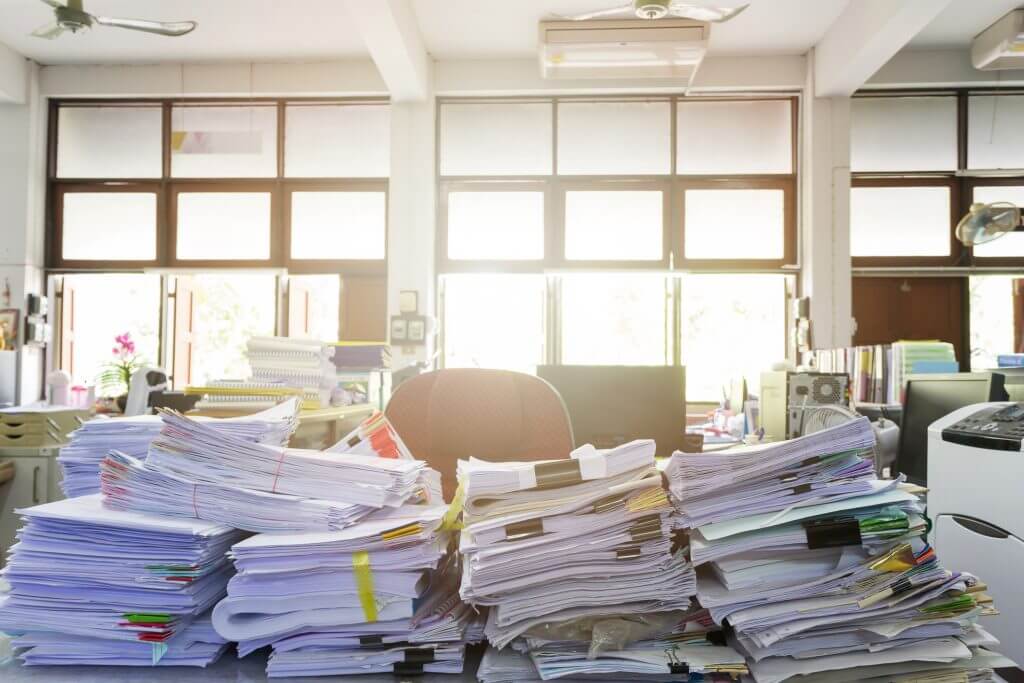 Consider the Following Areas in Your Office:
The File Room
If you walk into your file room, are there piles of business records sitting on top of file cabinets because the file cabinets are full and there is no more room to add cabinets? If this is the case, you likely have quite the mess generating.
The Conference Room
Has your conference room been converted into another storage room because there is no other place in your office to store business records?
Private Offices
As you walk through your office you see individual offices overrun with files and documents. Sound familiar?
Cubicles
Are cubicles in the office full of stacks of papers that just seem to keep growing and growing?
The Cure
Plan a document purge.  Hire a professional document shredding service that will provide you with security bins to discard documents in.  Next, alert your staff that they need to go through the piles of documents and files in your office and any business records that are no longer needed should be placed into the security bins so they can be shredded.  This does not have to be done in a day or so, as it will be more effective if your staff can have a period of time to go through the papers when it works for them within their normal work day.  You should have some time period set out however, so it does not drag on.  Be sure to regularly speak to your staff to make sure they are actively reviewing the documents and purging as much as they can.
The purge and shredding of the documents that are not needed anymore is a good start to clean up a messy office, but now you need to do something on an ongoing basis.  Your document destruction company can help you implement a Scheduled Shredding Program.
Here is How it Works:
The shredding service will provide you with security containers that you keep in your office.  Your staff will then dispose of paper business records as soon as they are no longer needed.  Make sure that the document destruction company provides you with enough security containers so they are conveniently located for all of your staff to use.  The shredding company will come to your office and empty and destroy the files that have been deposited into the security containers on a regular schedule, such as weekly or monthly.  It's a good idea to regularly remind your staff of the shredding schedule and how important it is for them to shred all papers that are not needed.
Now you are on your way to gaining control over the paper clutter in your office.
Time Shred Services is a local document shredding service that services Manhattan, Brooklyn, Bronx, Staten Island, Queens, Long Island, Westchester and New Jersey.  For more information give us a call or visit www.timeshred.com .