The Dangers of a Small Paper Shredder
Paper shredders are used to protect the confidential information of individuals and businesses against the dangers of identity theft. If you are thinking of doing it on your own with a personal or in-office shredder however, you need to be aware that they can be dangerous.   You can eliminate this exposure if you hire a professional document destruction service.
The need for shredding is greater than ever because of the continuing growth in identity theft cases, but you need to be aware of your personal safety when you're protecting your private information.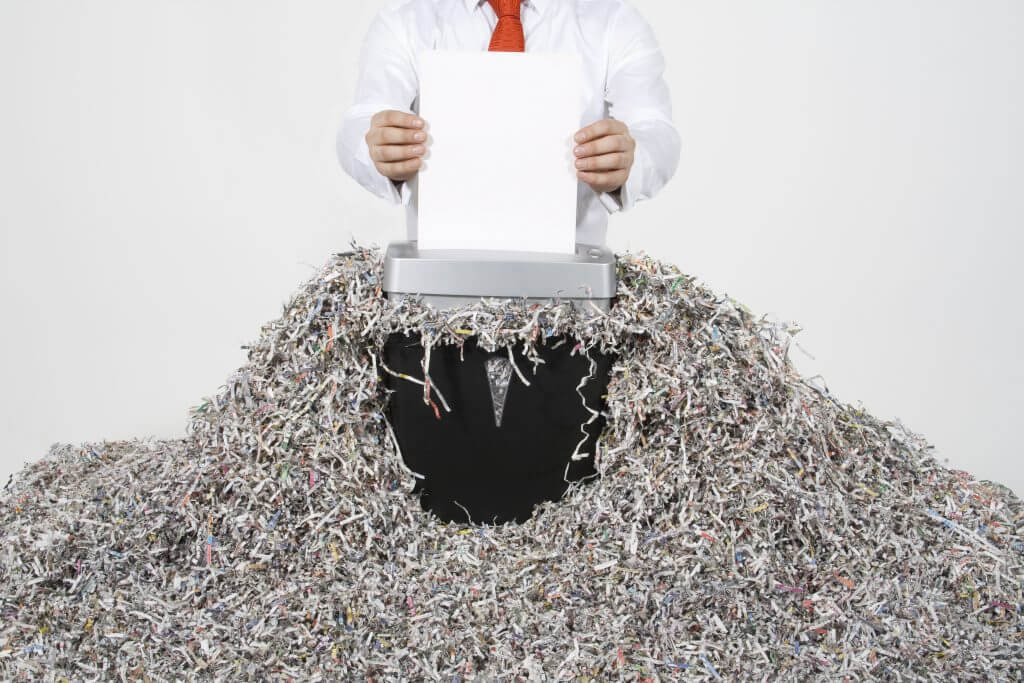 Possible Injuries
Shredders destroy documents with sharp metal blades that either cut the paper into strips or cross cut the paper in multiple directions. If you are not cautious or improperly use a paper shredder, they can be quite dangerous. The US Consumer Product Safety Commission warns that home paper shredders, an increasingly more common tool in home offices and work areas, may pose a significant risk of injury.
Injuries to Children
Parents of young children need to be aware of these statistics concerning shredders;
71% of the injuries involved children under 12, with over half of these involving children under three.
The majority of injuries that resulted in amputations of a digit occurred in children under six years of age
Children are naturally curious and since many shredders have an automatic function that leaves the shredder on, there is the possibility that a child may touch the shredder and activate the automatic function, leading to injury. Always unplug the shredder when not in use.
Injuries to Pets
Another reason to leave a shredder unplugged is to prevent animals from being injured. Cats enjoy being perched on top of things and if they decide to do it on top of a shredder the automatic feature could engage and hurt your pet. A dog could put its nose, tongue or paw too close to the shredder and start the automatic mechanism accidentally as well, which could cause injury.
Fire Hazard
When in operation, shredders generate heat and since they destroy paper they are a fire hazard. If paper is left jammed in a shredder, the heat from the shredder could cause a fire unexpectedly. Paper shredders that are left plugged in with the automatic setting, can malfunction, leaving the risk for an electrical fire to erupt.
A Safe Way to Shred
Whether you are a resident or a business owner, the safest and securest way for you to destroy paper records is through a professional document destruction service. For businesses you have two choices that are very flexible; One-time or Scheduled Service.  For individuals, there is Residential Shredding Services.
One-time shredding allows a business to destroy business records only when they need to. This service is best for firms that don't use or accumulate a lot of paper.
Schedule shredding affords companies a consistent way to securely dispose of corporate files. The vendor will supply you with locking containers that you dispose your documents in. On a regular schedule, the document destruction company will come to your office and empty and shred the contents of the containers.
Residential shredding is an easy option because the company will come to your home and destroy your personal papers at your residence.
All of the options will accommodate just about every document shredding need, plus by outsourcing the destruction of your files you are eliminating the danger and pitfalls of doing it yourself with a small shredder.